| | | |
| --- | --- | --- |
| | | |
| | | |
| | | |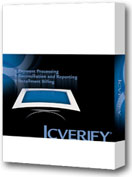 ICVERIFY software enables merchants to accept all major credit and debit cards, check, purchase cards, as well as many other private or stored value/gift cards.
It runs on a personal computer (PC) or PC-based electronic cash register (ECR) through a PC or PC-based POS system.

ICVERIFY helps you handle all of your in-store, mail, telephone, and electronic transactions in one easy-to-use program.
ICVERIFY software can also assist with reconciliation by providing reporting that mirrors your merchant statement.

ICVERIFY is easy to setup, and no hardware upgrades are needed.

Accepting corporate purchase cards or commercial cards is easy because the ICVERIFY software has built-in support for Visa® and MasterCard® Level II and III data requirements.
Features:
Master Session and DUKPT PIN encryption support
MICR check reader support
Contactless card reader support
Backward compatible Software Developer's Kit works with integrations designed for versions back to 2.5.x
Flexible XML API and ActiveX OLE options
Built-in encryption library to enhance integrated system security
Ongoing Association compliance enhancements
Support for Level II and Level III Visa and MasterCard purchasing card data
Support for Level II Corporate Purchasing Cards for American Express
Support for Windows® NT, 2000, XP Home and Professional (including Service Pack 2), and Windows 2003
Internet access to selected processor platforms through your broadband connection

Download complete software Data Sheet here

.
Our advice
A Low-Maintenance, Low-Cost, Complete Software Solution
This may be one of the most complete and versatile payment processing products available for merchant transactions.
Price:  
$ 270 (Software alone)
$ 240 (with Merchant Account, if merchant processes more than $5,000 per month in Visa & MasterCard)

FREE shipping if you register for a merchant account with MuniCommerce